Summer menu delights our guests from 25th of April to 1st of November. Ingredients from plant kingdom rule during this period as we celebrate the riches of gardens and wild nature.

Whisky
Blair Athol Nuts About Pearls Single Malt 1991
20
Cragganmore Heather Moorland Single Malt 1999
18
Glenlivet 40 Y.O. Sherry Cask Artist #5 Single Malt 1974
80
Lagavulin 16 Y.O. Single Malt
11
The John Walker King George V Blended Malt
64
Teeling 24 Y.O. Sauternes & Bourbon Barrel Single Malt
45
Glendalough 13 Y.O. Mizunara Oak Cask Finish Single Malt
12
Mackmyra Skördetid Amarone Cask Finish Single Malt
14
Kavalan Concertmaster Port Cask Finish Single Malt
9
Rum
Rhum Rhum PMG Liberation 2017
20
Grappa
Capovilla Grappa di Ribolla Gravner 2008
15
Gualco Grappa Bio Non Filtrata
8
Nannoni Grappa di Brunello Riserva Oro dei Carati 5 Y.O.
10
Grappa Marolo di Barolo 12 Y.O.
19
Eau de vie
Christian Drouin Blanche Eau de Vie de Cidre
9
Cognac
Frederic Mestreau XO nr.8 Borderies
17
Armagnac
Francis Darroze Domaine de Petit Lassis 1987
20
Calvados
Somerset Cider Brandy 5 Y.O.
10
J. L. Oliver Domaine de la Galotière Pays D'auge VSOP
7
Christian Drouin Hors d'Auge 20 Y.O.
23
Mezcal
Del Maguey Vida de San Luis Del Rio
9
Gin
Glendalough Wild Spring Botanical
7
Liqueur
Limonio Liqoure di Gelsi Neri
7
Amaro
*8% service charge will be added to your final bill
Sparkling wine
CHAMPAGNE
Blend
2013
Leclerc Briant Cuvée Abyss ***
Brut Zero
224
NV
De Sousa Cuvée 3A ***
Extra Brut
108
NV
Laherte Frères Les 7 **
Extra Brut
127
2007
Herve Jestin ***
Extra Brut
250
NV
Bollinger Special Cuvée
Brut
110
NV
Henri Giraud Aÿ Fút de Chéne MV14
Brut
255
1986
Philipponnat Clos Des Goisses
Brut
850
NV
Pol Roger Réserve
Brut
105
NV
Gosset Grande Réserve *
Brut
110
2009
Deutz Cuvée William Deutz
Brut
240
2002
Billecart-Salmon Cuvée Nicolas François
Brut
350
2008
Bollinger La Grande Année
Brut
290
1975
Dom Pérignon Vintage
Brut
960
NV
Krug Grande Cuvée
Brut
260
1990
Louis Roederer Cristal
Brut
1200
2002
Piper-Heidsieck Rare Millesimé
Brut
290
1988
Piper Heidsieck Rare Vintage
Brut
740
Blanc de Blancs
1995
Bruno Paillard Le Mesnil
Extra Brut
590
1997
Jacquesson DT Avize
Extra Brut
450
2011
Louis Roederer
Brut
145
NV
G.H. Mumm de Cramant
Brut
170
2007
Salon Cuvée 'S' Le Mesnil
Brut
890
1996
Salon Cuvée 'S' Le Mesnil
Brut
1450
Blanc de Noirs
2012
Philipponnat
Extra Brut
120
NV
Besserat de Bellefon
Brut
115
NV
Eric Rodez Ambonnay **
Brut
130
Rosé
NV
Billecart-Salmon
Brut
140
NV
Laurent-Perrier Cuvée
Brut
130
2007
Taittinger Comtes
Brut
320
OTHERS
2018
François Mikulski Crémant de Bourgogne AOC **
Bourgogne/FR
60
2010
Nyetimber Blanc de Blancs
Sussex/UK
98
2008
Agusti Torello Mata Kripta Brut Nature Gran Reserva Cava DO **
Catalunya/SP
148
White wine
France
2015
Zind Humbrecht Riesling Herrenweg de Turckheim Alsace AOC ***
Alsace
82
2019
Pascal Jolivet Sancerre AOC ***
Loire
56
2018
Domaine Gueguen 1er Cru Vaucoupin Chablis AOC **
Bourgogne
65
2014
Domaine Servin Chablis Grand Cru Bougros AOC *
Bourgogne
113
2011
Jacques Prieur Champs-Pimont 1er Cru Beaune AOC *
Bourgogne
120
2018
François Mikulski Bourgogne Blanc Meursault AOC **
Bourgogne
160
2014
Domaine Chanson Chassagne-Montrachet AOC
Bourgogne
115
2017
Andre Bonhomme Cuvée Speciale Viré-Clessé AOC **
Bourgogne
58
2016
Geroges Duboeuf Prestige Pouilly-Fuissé AOC
Bourgogne
85
2018
Arnaud Combier Blanc-Sain Chardonnay VdF *
Beaujolais
43
2015
Château Malartic Lagravière Grand Cru Classeé Pessac-Leognan AOC
Bordeaux
160
2015
M.Chapoutier Les Granilites Saint Joseph Blanc AOC *
Rhône
95
2015
Jeff Carrel LBV IGP d'OC
Languedoc – Roussillon
50
Italy
2012
Alois Lageder Tenutae Löwengan Chardonnay Alto Adige DOC ***
Trentino – Alto Adige
90
2018
Bosco del Merlo Turranio Sauvignon Blanc Lison Pramaggiore DOC *
Veneto
40
2015
Ornellaia Poggio alle Gazze Dell'Ornellaia Toscana IGT
Toscana
95
2019
Cantina Mesa Giunco Vermentino di Sardegna DOC
Sardegna
40
Spain
2018
Izadi Blanco Rioja DOC
La Rioja
53
2018
Frontonio Telescópico Blanco Valdejalón IGP
Aragon
62
Portugal
2017
Anselmo Mendes Muros Antigos Biologico Alvarinho DOC **
Vinho Verde
40
2017
Quinta do Crasto Superior Douro Branco DOC **
Douro
54
Germany
2018
Clemens Busch Marienburg Riesling Kabinett VDP **
Mosel
57
2017
St. Urbans-Hof Ockfener Bockstein Riesling Spätlese VDP
Mosel
82
2018
Johannishof Charta Riesling
Rheingau
44
2010
Georg Breuer Berg Roseneck Rüdesheim Riesling QbA *
Rheingau
110
Austria
2018
Weingut Fred Loimer Langenloiser Grüner Veltliner Kamptal DAC ***
Kamptal
50
2016
Weingut Allram Grüner Veltliner Drei Generationen Kamptal DAC Reserve **
Kamptal
110
2016
Weingut Emmerich Knoll Riesling Ried Loibner Smaragd DAC
Wachau
95
USA
2015
Ridge Vineyards Estate Chardonnay **
California
117
New Zealand
2018
Cloudy Bay Sauvignon Blanc
Marlborough
76
Rosé wine
2018
Château le Puy Rose – Marie AOC
Bordeaux/FR
125
Red wine
France
2014
Louis Latour Château Corton Grancey Grand Cru AOC *
Bourgogne
152
2012
Faiveley Fremiets Volnay 1er Cru AOC
Bourgogne
140
2016
Louis Jadot Santenay Clos de Malte AOC
Bourgogne
70
2018
Arnaud Combier Chiroubles AOC **
Beaujolais
58
2016
Château Marjosse Bordeaux Superieur AOC
Bordeaux
55
2009
Château Pichon Longueville Comtesse de Lalande Réserve Pauillac AOC
Bordeaux
195
2005
Château Batailley Grand Cru Classé Pauillac AOC
Bordeaux
220
2001
Château Léoville Poyferré Grand Cru Classé Saint Julien AOC
Bordeaux
250
1995
Château Palmer Grand Cru Margaux AOC
Bordeaux
450
2009
Château Ségla Margaux AOC
Bordeaux
105
2011
Château Clos Saint Martin Grand Cru Classé Saint-Émilion AOC
Bordeaux
175
1986
Château Cheval Blanc Premier Grand Cru Saint Émilion AOC
Bordeaux
1300
2017
Château Le Puy Emilien Côtes de Bordeaux AOC ***
Bordeaux
90
2015
Chateau Pré La Lande Terracotta Sainte-Foy de Bordeaux AOC ***
Bordeaux
53
2013
E. Guigal Château d'Ampuis Côte-Rôtie AOC
Rhône
150
2013
E. Guigal Côte-Rôtie La Turque AOC
Rhône
560
2015
M. Chapoutier Cornas Les Arènes AOC ***
Rhône
110
2010
Xavier Vignon XVIII La Lune Côtes du Rhône AOC
Rhône
72
Italy
2015
Petrussa Schioppettino di Prepotto Colli Orientali del Friuli DOC
Friuli – Venezia Giulia
72
2017
Quintarelli Giuseppe Primofiore IGT
Veneto
110
2008
La Spinetta Vürsù Vigneto Gallina Barbaresco DOCG
Piemonte
190
2004
La Spinetta Vürsù Vigneto Campè Barolo DOCG
Piemonte
310
2016
Trediberri Barolo DOCG
Piemonte
89
2009
Giacomo Borgogno & Figli Barolo Cannubi DOCG
Piemonte
180
2016
Ornellaia Le Serre Nuove dell'Ornellaia Bolgheri DOC
Toscana
95
2004
Gaja Pieve Santa Restituta Rennina Brunello di Montalcino DOCG
Toscana
420
2017
Querciabella Mongrana Maremma Toscana IGT *
Toscana
50
2015
Coppi Senatore Primitivo Gioia del Colle DOC
Puglia
72
2017
Alberto Aiello Graci Etna Rosso DOC
Sicilia
57
Spain
2013
CVNE Viña Real Gran Reserva Rioja DOCa
La Rioja
60
2005
La Rioja Alta Gran Reserva 890 Rioja DOCa
La Rioja
310
2009
La Rioja Alta Gran Reserva 904 Rioja DOCa
La Rioja
135
2014
Albet i Noya La Milana Penedès DO *
Catalunya
68
2013
Vega Sicilia Alión DO
Ribera del Duero
260
2005
Vega-Sicilia Unico DO
Ribera del Duero
490
2007
Vega-Sicilia Valbuena # 5 DO
Ribera del Duero
230
2012
Bodega Numanthia Toro DO
Castilla y León
135
2013
Bodega Numanthia Toro DO
Castilla y León
135
2015
Bodegas Volver Triga Alicante DO
Valencia
90
2014
Marques de Griñon Svmma Varietalis Dominio de Valdepusa DO *
Castilla – La Mancha
65
Portugal
2017
Quinta Do Vallado Douro Superior DO **
Douro
66
2010
Quinta da Vacariça Baga Bairrada DO ***
Bairrada
62
Austria
2018
Jurtschitsch Pinot Noir Reserve **
Kamptal
74
2018
Weingut Hajszan Neumann Nussberg Zweigelt ***
Wien
62
USA
2011
Domaine Drouhin Pinot Noir Dundee Hills
Oregon
140
2013
Marimar Estate Doña Margarita Vineyard Mas Cavalls Pinot Noir **
California
110
2009
Marimar Estate Don Miguel Vineyard La Masía Pinot Noir**
California
100
2013
World's End Little Sister Reserve Merlot Napa Valley
California
125
2015
Wente Charles Wetmore Cabernet Sauvignon *
California
70
Australia
2006
Penfolds Grange Shiraz
South Australia
800
2013
Salomon Estate Finniss River Shiraz
South Australia
92
Chile
2016
Montes Purple Angel Carménère
Colchagua Valley
107
Sake
NV
Kuramoto Yamada Kai Junmai RPR 66%
Gifu
75
NV
Dassai 50 Daiginjo RPR 50%
Yamaguchi
65
Wild bunch
Sparkling
2019
Loxarel Ancestral A Pèl
Penedès/SP
54
2019
Meinklang Prosa White Foam Pét-Nat
Burgenland/AT
65
White & Amber
2013
Laurent Bannwarth Pinot Gris Nature d'Alsace AOC
Alsace/FR
68
2014
Sébastien Riffault Auksinis Maceration Sancerre AOC
Loire/FR
90
2018
Domaine La Taupe Surin
Loire/FR
55
2018
Domaine La Taupe Nicole
Loire/FR
63
2010
Gravner Ribolla Venezia Giulia IGT
Friuly-Venezia Giulia/IT
160
2017
Dario Prinčič Jakot IGT
Friuly-Venezia Giulia/IT
80
2017
Dario Prinčič Sivi IGT
Friuly-Venezia Giulia/IT
87
2015
La Stoppa Ageno Bianco Emilia IGT
Emilia-Romagna/IT
75
2018
Magula Oranžový Vlk
Malokarpatská/SK
75
2014
Jurtschitsch Pot des Fleurs Grüner Veltliner Ernte
Kamptal/AT
105
2015
Weingut Hajszan Neumann Traminer Natural
Wien/AT
85
2017
Gernot and Heike Heinrich Graue Greyheit
Burgenland/AT
85
2016
Tchotiashvili Rcheuli Qvevri Rkatsiteli
Kakheti/GE
65
Red
2004
Gravner Rosso Breg IGT
Friuli-Venezia Giulia/IT
330
2005
Gravner Rosso Breg IGT
Friuli-Venezia Giulia/IT
360
2014
Voltumna Pinot Nero Toscana IGT
Toscana/IT
75
2017
Francesco Marra Negroamaro Rosso Salento IGT
Puglia/IT
66
Sweet wine
Noble Rot
2005
Château Guiraud Sauternes 1er Cru Grand Cru Classé AOC **
Bordeaux/FR
145
1998
Kracher Zwischen den Seen Scheurebe TBA No.12 375ml
Burgenland/AT
145
2017
Weingut Sattlerhof Sauvignon Blanc TBA ** 375ml
Südsteiermark/AT
80
Late Harvest
2015
Plaimont Saint Albert Barrique D'or Pacherenc du Vic Bilh AOC
Sud-Ouest/FR
75
2015
Oremus Tokaji 500ml
Tokaj/HU
60
Fortified
1997
Feuerheerd's Colheita Porto DOC
Douro/PT
140
2004
Graham's Quinta dos Malvedos Vintage Porto DOC 375ml
Douro/PT
55
2013
Bodegas Ximénez-Spínola Añada PX Jerez DO 375ml
Jerez/SP
62
*sustainable **organic *** biodynamic ****natural
8% service charge will be added to your final bill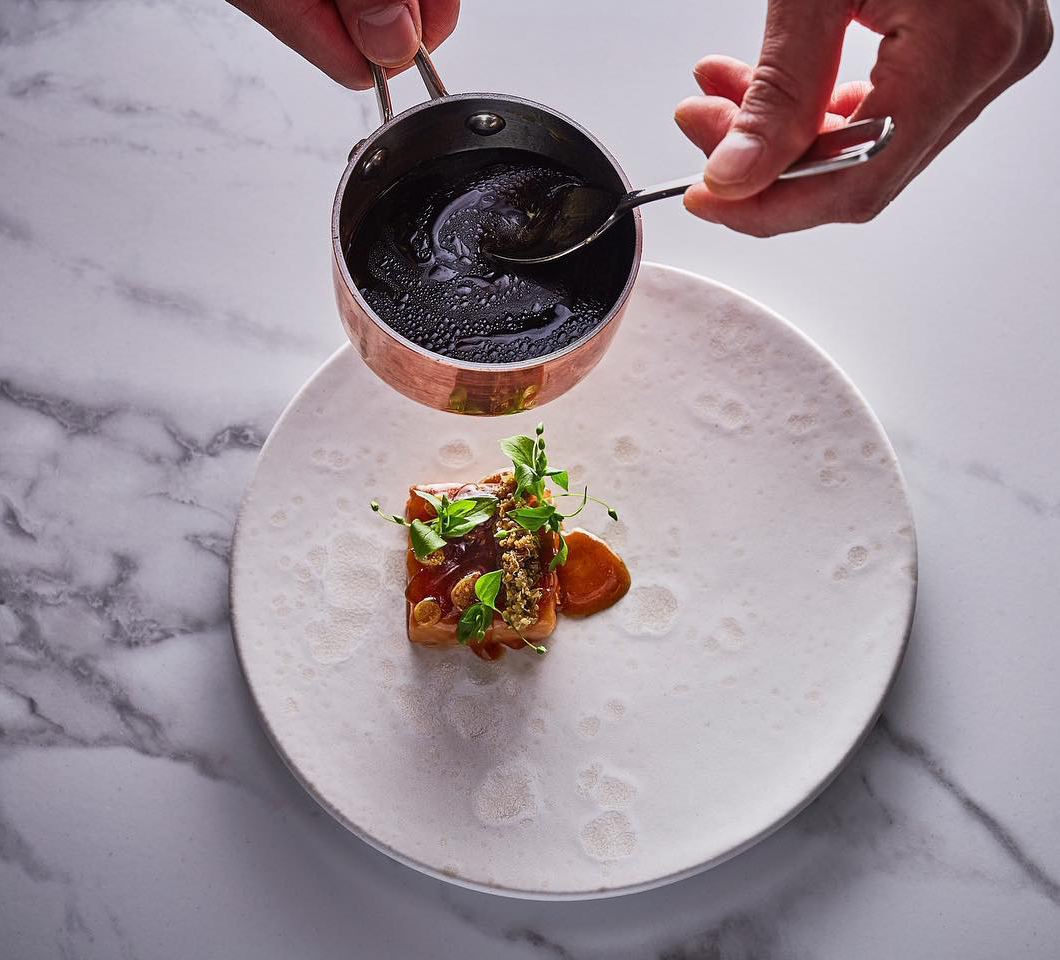 We are glad to invite you to the restaurant in August:
Friday: 17:30 – 00:00
Saturday: 17:30 – 00:00